What is B2B Content Marketing?
Posted: August 29, 2019 | Author: Ankit Sahu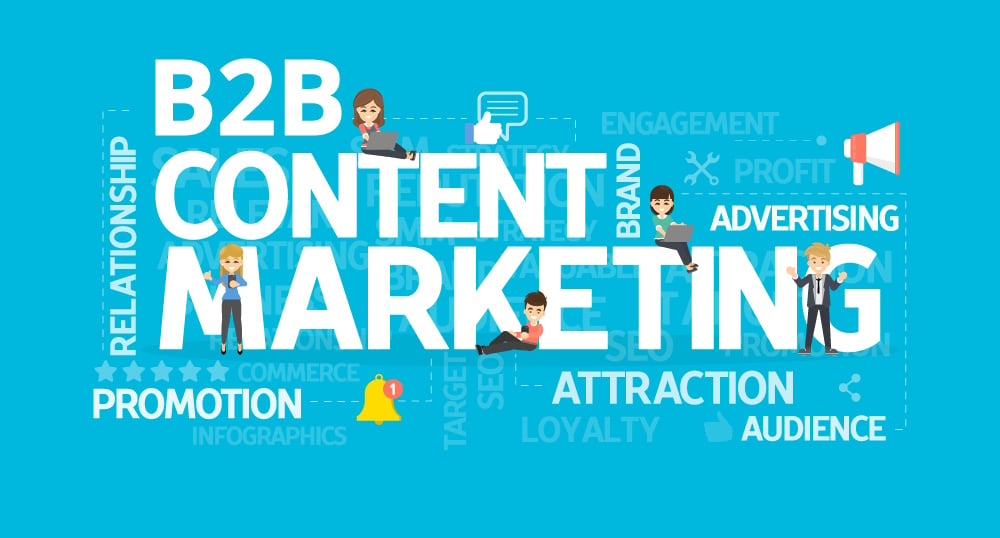 Before going forward with B2B content marketing, it's necessary to understand what is B2B marketing?

What is B2B marketing?

As the name suggests, B2B or business-to-business marketing refers to the marketing of products or services to other businesses. It is distinct from B2C on several key elements.
B2B content marketing is informational and straightforward, B2C is short and simple. Because in comparison to consumers, businesses are based on bottom-line revenue impact.
ROI is rarely considered by the everyday consumer (purchase decisions involve small monetary values), but for decision-makers (purchase decisions involve a large amount of money) it's a primary focus.


Now, we are geared up to deep dive into B2B content marketing and in this blog we will be answering the following questions -
What is B2B Content Marketing?
Whom is B2B content marketing suitable for?
What are the components of B2B content marketing?


How to implement B2B content marketing?
What is B2B Content Marketing?
In the B2B marketing context, content marketing acts as a critical elemental tool that leverages content as the core strategy to engage with prospects and customers.

The content surges typically in digital formats such as blogs, videos, articles, buyers' guides, white papers, research reports or even social media posts, which is intelligently framed so as to entice its target audience with purposeful, focused content around topics of their interest.

Since the B2B purchase cycle is more complex than the B2C purchase cycle, buyers in B2B buying panel tend to do more research around the company, its products, its reputation, certifications and more. That's why B2B marketers try to provide informative, non-promotional content that helps buyers make informed choices.
---
---
Whom is B2B content marketing meant for?
Software-as-a-service (SaaS) subscriptions, retail products, security solutions, tools, accessories, bulk home supplies, office supplies and many more transactions fall under the B2B umbrella.

B2B marketing campaigns are aimed at individuals with control or influence on purchasing decisions. Hence the content is also customised to provide relevant data and facts to the individual.
What are the components of B2B content marketing?

There are essentially three parts in this which are as follows:
B2B content creation
B2B content distribution
B2B content analysis


B2B Content Creation

The content-focus of B2B content marketing is to make sure that it is useful and practical for other companies.

B2B content marketing has to be engaging and compelling over a sustained period, ensuring it can keep pace with the evolution of the buyers' journey and beyond. The following key points are pillars in B2B content marketing creation.
The content should be relevant to the product or service.

The content should mostly be non-promotional.

The content should be engaging.
Note: When it comes to B2B content marketing, quality and relevance beat quantity and generalisations.

Now that we have discussed the important characteristics of B2B content creation, let's take a look into the concrete steps to start your B2B marketing content plan:


B2B Content Marketing Implementation

1. Identify your ideal audience

It is important to have an in-depth understanding and analysis of your target audience before you kickstart your content creation that will entice and attract prospects.

2. Create buyer personas

Segment the audience as per the stage of the buyer's funnel. This is where the reader personas become significant.
You have to identify potential buyers from the people that are visiting your website. By the use of Google Analytics, you can find out their necessary demographic details, such as name, age, gender, location, as well as recurring themes of interest. Also, with the use of SEMRush, you can find out what topics or keywords are of interest to your target audiences.

Regularly coming up with new content ideas can often be one of the most significant challenges for content marketers. Here is a crucial insight which you can implement in your overall content marketing plan.
3. Evergreen content always works

Create content which will always be useful to your B2B audiences. Typically, for evergreen content, the content itself should be elaborative; it should cover the entire gamut of the topic so that your readers can stay on your content page to get all the relevant information.
4. Use keywords for content generation

Use Google Keyword Planner to look for keywords and analyse their performance. There are three fundamental applications that this tool provides you: Keyword research, getting traffic forecasts and generating historical data for comparative analysis.

Now there are many ways in which you can position your content to rank high on Google and generate traffic to your website. Such as leveraging social media insights, testing topical themes with content snippets on social media and finding topic popularity trends with Google Trends.

Now moving on to our second component of B2B content marketing, we will discuss the distribution channels and essential steps involved in it.
---
---


B2B Content Distribution

In your B2B content marketing plan, distribution, promotion and amplification of B2B marketing content is an essential step.


The online space is filled with content, and this crowding makes it harder for your audience to find your content. To stand apart amidst the widely populated content space requires strategy, which can help you create a niche space for yourself and be easily found by your readers!

There are primarily two ways to distribute, amplify and promote your B2B content to your audience. One is 'organic promotion', which involves distributing and promoting your content without paying for it. Second is 'paid promotion', which means having your content amplified on and spread across platforms for a fee.

Next and most important part of B2B content marketing is content audit or content analysis. This will set your communication right and tell you what is working is what is not.


B2B Content Audit

No one gets it right on the first try! It would be best if you keep learning, experimenting, measuring and fine-tuning all aspects of your content plan - from content creation to distribution to analysis.
Before publishing any new content, you must audit all the material that is present on your website, and all other owned earned and paid channels to see which content formats and platforms are gaining the most traction.

It will give you critical insights as to which content formats, themes and platforms to invest more purposefully in.

Let's take an example of B2B content marketing to understand the complete process in one go.

American Express, famously known as AmEx, is a financial giant that has gone out of its way to connect with its target audience truly.

Putting out content that addresses the challenges faced by entrepreneurs or SMEs has helped them to showcase that they are a financial institution that truly cares for its readers. What has further augmented their case is their guest articles wherein financial experts, often from big media houses, contribute on their platform to also cater to this readership?

The way that this content has been organised on their online platform is another factor as to why it's so effective. And this is how AmEx nailed it's B2B content marketing—by providing useful, top quality content and organising it in intuitive segments, which the reader can easily find!
Conclusion
Now you have a bird's eye view of what's essential to keep in mind to ace your B2B content marketing.

While there's a lot out there, you can kickstart your B2B content marketing by keeping the basics in mind—creating reader-focused content, distributing it properly and analyse it thoroughly.

So, go ahead and begin your B2B content journey, and if you are looking for expert advice, we are always here to help you grow better.
---
---