How is Digital Marketing Different From Traditional Marketing?
Posted: August 30, 2022 | Author: Seagull Advertising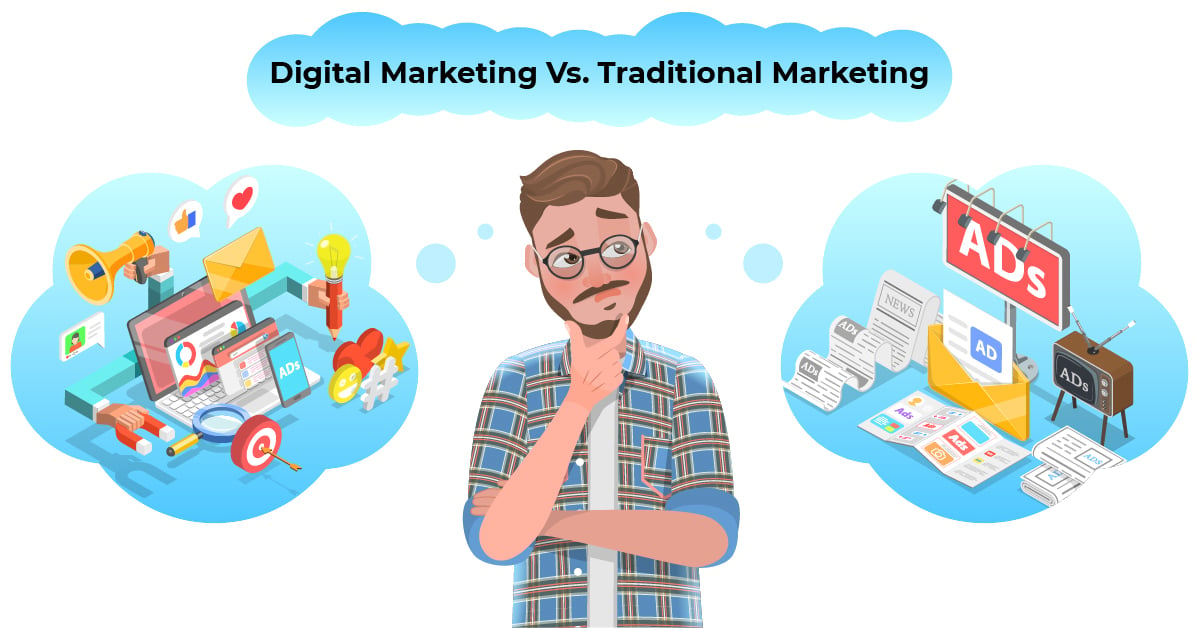 Traditional Marketing Vs. Digital Marketing
Time travels, and eras change, it's rightly said that evolution is a continuous process. We as humans- the brightest minds, bring advancement in every aspect of our lives. Today we have an interesting factor to discuss, the evolution of marketing focusing on how digital marketing is different from traditional marketing.
Marketing has been with us for 12 decades and has been transforming businesses from all disciplines. Marketing has evolved from the simple act of informing potential customers about the existence of a specific product to a complex web of interactions that take place in person, through print, over the airwaves, and on social media.
Marketing evolution refers to the various stages that companies have gone through as they sought new and innovative ways to achieve, maintain, and increase revenue through customer sales and partnerships. Various strategies have been used since the 1900s as industries developed and refined their marketing approaches.
Traditional or digital marketing both have their prime focus on creating a social presence of a brand in the marketplace. Promoting their services and products for people to know all about them. The agenda is the same with different ways of execution.
Let's Focus on How Traditional Marketing Functions...
Traditional marketing, as the name suggests, activities are undertaken in a conventional fashion; in the form of newspapers, magazines, flyers, billboards, television, radio, etc. It is a medium where marketing happens in a physical form and people experience it with a personal connection.
Traditional Marketing has four phases, Interest, Awareness, Desire, and Decision. It connects with the audience personally and touches their heart. Traditional Marketing involves the audience in the promotion process at each step.
It involves branding, promoting, and marketing brands and products through a physical medium and was very popular in its own time, but the problem is that it is not conducive to brand building. Once the advertisement is printed or is put into action it cannot be changed. Traditional marketing is notoriously difficult to quantify the return on investment.
Traditional marketing has a very limited local reach as the ads are displayed only in a specific region. The medium also takes a considerable amount of time for its results. A strong and confident marketing strategy thought ahead of time is very important as the success of a marketing campaign is dependent on the results. It is very difficult to get involved in this process of marketing as today's generation focuses on instant results.
Traditional Marketing Consists of:
Television Commercial
Radio
Banner advertisements
Broadcast
Sponsorship
Print advertisements
This is how traditional marketing has its way of working let's understand how digital marketing functions...
With evolution and innovation in the area of marketing, digital is the new way to go. We can call it a digital era as everything happens online. From dating to booking a destination for a trip, everything has a digital presence and involvement. Digital marketing is growing rapidly and has reached great heights with the phenomenal success it gives to the marketing campaigns.


The Changing Era Brings Rise to Digital Marketing
Digital marketing is a cutting-edge marketing technique. Digital marketing is the broad term that encompasses all online marketing efforts. Companies use all digital channels to reach out to existing and potential customers in digital marketing. Google search, social media, email, websites, and so on are examples of channels. Furthermore, the Internet is the most important technology on which digital marketing is based.
Planning, Conversation, Content, and Sequels are the four stages of digital marketing. Promotion of products and services through digital platforms and with the help of innovative ideas is the main function of digital marketing. It is extremely efficient, cost-effective, and has real-time results when it comes to brand building. In digital marketing, we can amend the ad or any promotional activity even after it's posted or is out in the industry.
Online platforms help reach a maximum audience as per their likes and dislikes. Targeting the audience, knowing about their interests, building a presence for the brand, and connecting with the audience from any part of the world in very little time is possible with digital marketing. Unlike traditional marketing, digital marketing involves two-way communication, the audience can connect with the brands and have a clarified understanding of the products and services.


Digital Marketing Includes:


Search Engine Optimization (SEO)
Running Online Ads
Web Design and Development
Content marketing
Social media marketing.
Evolution doesn't stop. New approaches to product, customer, and brand positioning will lead to novel marketing approaches in the future, forming the next stage of the field's evolution. Marketing in both traditional ways and digitally both have the same agenda but the results from both mediums stand to be different. Today the best way to market an idea or a brand will always be through digital marketing, but traditional ways don't go extinct as marketers are creatively crafting ways for effective marketing. It's the industry that never runs out of ideas and ways to promote and market products and services uniquely.
We at Seagull Advertising, a digital marketing agency in Pune, have dedicatedly followed traditional marketing as our base and emerged our spheres in the digital area to become successful masters in both domains. This dual experience adds precision and perfection to our work.
---
---