What Is Meme Marketing and Why Does Your Brand Need It?
Posted: February 16, 2023 | Author: Seagull Advertising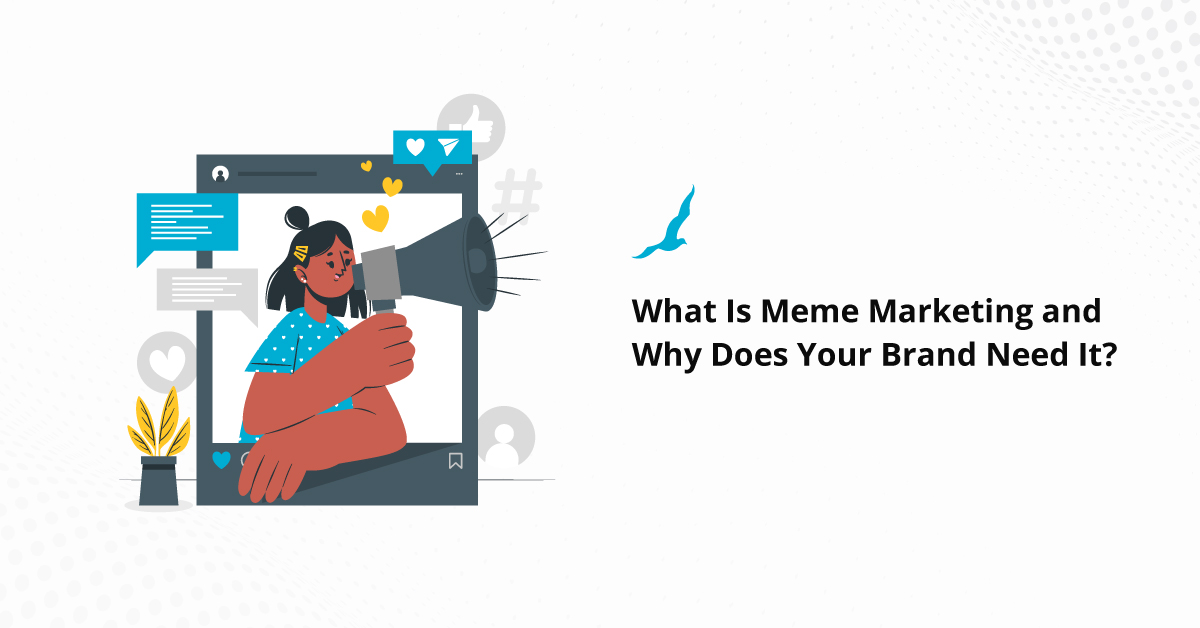 Did you know that millennials and Gen Z's spend over 200 minutes online every day? There is a very good chance that a large chunk of this time is spent laughing at and sharing memes online. There is no doubt that the intangible influence of meme culture holds in today's day and age, as the trend develops a presence of your brand in a matter of seconds.

Many branding, marketing and advertising agencies smartly have begun to realize the potential of memes to be one of the best types of marketing strategies and also have implemented them into their marketing strategies. Due to their vast influence, marketing, and branding companies in Pune such as Seagull Advertising have brilliantly executed them through our core social media strategy to make content that is both shareable and relatable.

But how did meme marketing get to be one of the best types of marketing strategies for brands today?

We have broken down some of the key factors of everything you need to know about meme marketing to make your next strategy an ultimate success.
What Exactly Are Memes?
Memes are cultural icons or social concepts that spread quickly from one person to another. They frequently take the form of amusing or relatable images or videos with captions. They can be expressed in a variety of ways, including catchphrases, images, videos, and even actual physical objects. When done correctly, however, memes can be one of the best types of marketing strategies to effectively give brands a pathway to reach new audiences and build a brand's presence.
What Is Meme Marketing?
Meme marketing is one of the most effective types of marketing and branding strategies that leverage internet memes to promote a brand, product, or service. The main objective of meme marketing is to create an image, video, or piece of content that is both funny and relatable, and that will therefore spread quickly and widely on social media.

Seagull Advertising has also implemented meme marketing to go beyond just brand awareness with attention to detail, thereby helping your brand connect with younger and new audiences who are active on social media. Being one of the best marketing and branding companies in Pune, we offer you multifold social media services under our solutions umbrella. Besides being a renowned marketing and advertising agency, Seagull Advertising creates exciting digital opportunities, thereby always helping your brand engage with its customers in the most optimum way.
Steps To Build a Successful Meme Marketing Strategy for Your Brand:
1. Research your audience: Understanding your target audience and their sense of humor is one of the common factors you will notice in all the best types of marketing and branding strategies. Understand brand's interests and get a general sense of their preferred sense of humor.

2. Identify trending memes and try staying up-to-date: Keep a keen eye on current and relevant memes, especially the ones which identify and align with your brand's value and tone

3. Create original content: Use your brand's tone and personality to create custom memes that will resonate with your brand audience.

4. Maintain alignment with your Brand Voice: While it can always be tempting to use the most trending meme at the moment it is important to ensure whether or not it showcases what your brand believes in.

5. Measure success: Track the engagement and reach of your memes to understand what's working and adjust your strategy accordingly.

Seagull Advertising carefully keeps all these guidelines in mind to help you curate some of the most effective brand strategies to boost your presence in the industry, by making sure to simulate brand engagements in high volumes with high brand recall. Being one of the best branding and marketing agencies in Pune, Seagull Advertising helps you build stronger communities and share relevant content with targeted audiences.
Some Pros and Cons of Meme Marketing:


Seagull advertising, being one of the best branding companies in Pune, helps you create and share content that is relevant to your target audience, thereby helping you build brand awareness and brand recall. Our Social Media marketing team goes above and beyond to give you some of the best marketing strategies that work for you.
Seagull advertising kept timing as a key factor with its recent most successful meme strategy of the Zomato- Billboard posts on Seagull's official Instagram page relating to their clients. With extreme attention to detail and focus on brand tone and voice, the social media and copy department came up with some of the funniest yet informative posts that left the audience asking for more (as was evident from the high engagement rates recorded through data analysis).

In the world of creative ideas, they say one is as good as their last piece of work. Scroll through our Instagram page to browse through some of the award-winning, best types of branding, marketing and advertising strategies executed by Seagull over the years.

Seagull Advertising, being one of the best branding companies in Pune, keeps up with all the best marketing strategies in trend, in order to help give your brand an enhanced identity to the right target audience, at the right time. We provide our clients with wholesome solutions to all their marketing, branding and advertising needs in order to help them soar to new heights.

To know more, visit Seagull Advertising website, or read our blog to find out about the solutions and services we provide to help you achieve all your marketing and branding goals.
---
---