Real Estate: Branding Or Lead Generation? How About Both?
Posted: February 18, 2022 | Author: Seagull Advertising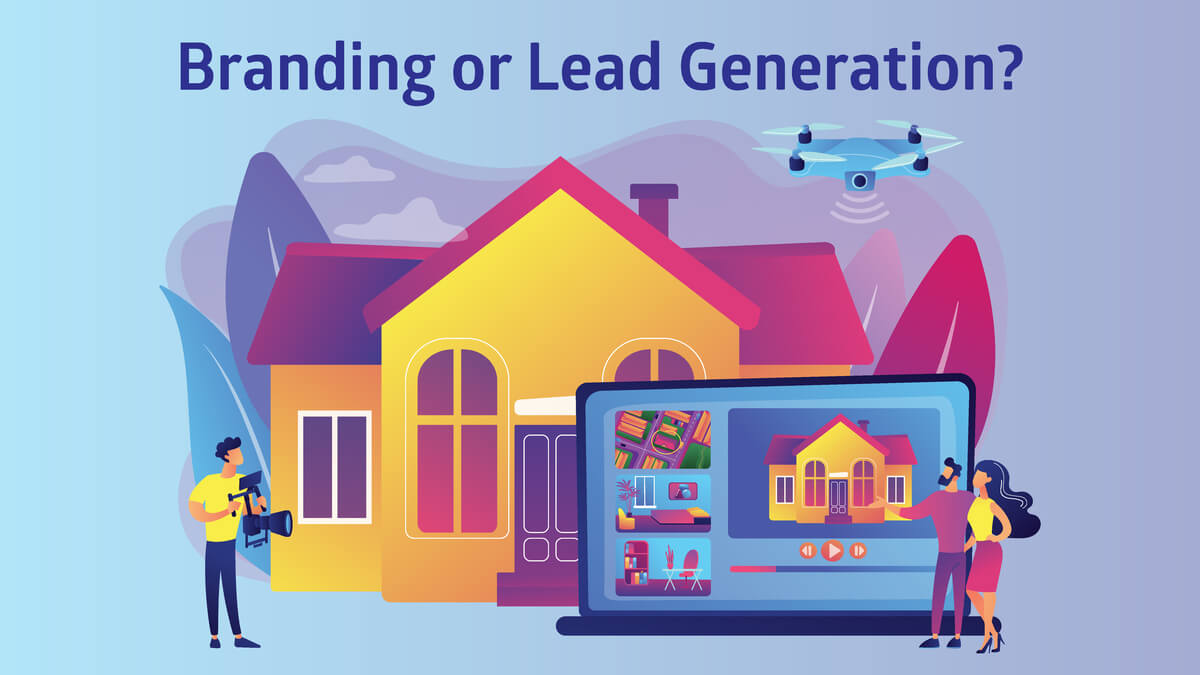 It appears that the battle for customer mindshare is never-ending. We all want potential customers to think about our company. But, long before they make a purchase, we want them to know who we are and what we have to offer.

The decision to focus marketing efforts on brand awareness or lead generation can feel like a perpetual wrestling match for many CEOs and product managers. On the one hand, brand marketing initiatives serve to increase the size of the audience. Lead generation, on the other hand, assists in identifying a group of people who are willing to offer their contact information in exchange for your content.

The good news is that you don't have to constantly battle awareness and lead acquisition strategies. The two strategies, in fact, compliment each other when applied strategically and effectively.

The key to finding the correct balance between branding and lead generation is to recognise your customer's needs. While each strategy has its own ebb and flow, they must work together to be effective. So in this blog, we will give some important insights on branding and lead generation for your real estate brand.

But why real estate? Because it's a perfect business to understand both digital marketing strategies as it utilises both extensively. Also, we will indulge you with two fantastic examples to make our points clear.

Let's dive in.
Real Estate Branding
Do you wish to find out - How to build a real estate brand? Or how to go for real estate branding? Then this section is for you…

It's critical to comprehend the basis of both marketing tactics in order to strike the proper balance. As you may be aware, your brand is shaped by everything you do, including the quality of your product or service, the experience of using it, the way your firm handles difficulties, and how people feel when they have a problem.

Brand awareness is a broad term that refers to your company's public visibility. It's the feelings and attitudes that people identify with your company. You want your company to spring to mind when someone searches for a product or service in your sector.

Companies are putting a great emphasis on branding through content marketing. Kohinoor Group, Pune and Mahalaxmi Group, Pune are two firms that excel at this.

Kohinoor Group creates valuable branded content on a regular basis, earning them considerable reputation and trust as a thought leader in the field. Kohinoor Group regularly creates material that B2C audiences want, from videos and blogs to Social posts and ebooks, all while promoting their brand. Even if viewers haven't purchased Kohinoor Group's spaces, they are likely to have read and used some of the company's useful material.

Similarly, the new age real estate builders, Mahalaxmi Group have found out how to use Social content to inform (and entertain) its potential customers with unique and fascinating posts. Mahalaxmi Group not only promotes their brand by providing readers with what they want in the form of short, strong pieces of information, but they also employ social engagement to increase sharing and generate results.

Several factors must be in place before brand awareness may be effectively increased, such as the following:
Brand Foundation



The cornerstone of your brand is your company's website. Is it practical and easy to use? Is the information up to date, relevant, and SEO-friendly? Make sure your landing pages and forms are functional, and that your site is mobile-friendly. What about old-fashioned marketing? Make sure your brochures and other printed materials are current so that potential buyers can learn more about your products or services quickly.



Message and Positioning

Make a list of the products or services you'd like to market. What is the message of your company? Is your product or service a viable answer to a customer's problem? Can you truly comprehend how your product or service functions for the consumer?



Diverse Content



It's critical to actively engage with your customer once you've attracted their interest. And content includes social media, video, blogs, photos, graphics, infographics, and other forms of involvement. Customers don't look at everyone in the same way, so make sure they can connect with you in a method that feels natural and unique to them.

Use 3D renders of the property. To engage customers some builders are also using AR and VR to give a realistic feel of the property.



Thought Leadership

Today's customers nowadays are, without a doubt, a research generation. Before making a purchase, they extensively examine products, visit several websites, and research the background information. You must establish yourself as a valued resource and industry thought leader as a trustworthy brand.

Make sure to make your presence visible on online aggregators like 99acres, makaan, housing, magicbricks, etc.
Lead Generation For A Real Estate Brand
Do you wish to know - Which are the best ways to generate leads for a real estate brand? Or simply how to generate real estate leads? Read on to find out…

One of the most important aspects of content marketing is lead generation. When done correctly, high-quality, relevant content attracts readers, allowing you to acquire leads while also improving your brand's SEO results.

A precise call to action, as well as a distinct value proposition, are usually the results of lead creation. While brand recognition is not always necessary, lead creation is significantly more effective when the two are combined.

So start with a good plan that incorporates the steps below to be effective with lead generating activities.
Plan Your Campaign



Do you want to generate leads or sell products? Make sure to emphasise the aim of your content even more. Users can connect with you by downloading ebooks, exploring landing pages, engaging with infographics, case studies, and research materials.



Provide Collateral

It's critical to know the difference between a pull campaign and a push campaign as a marketer. Your paid content can be used to generate leads and start a nurturing funnel. Remember that just because someone isn't a hot lead doesn't mean they aren't worth your time during the sales cycle.



Gather and Analyse Data



Filter your leads based on the level of engagement of your customers on each level. For example, once your potential customer has visited your project's landing page and filled the form, start sending them emails immediately. Also, arrange a sales call ASAP. On the other hand, if your potential customer has scrolled through the landing page, but did not fill the form, optimise your campaign to show them multiple paid ads on social media platforms.
It Takes Two To Tango
Traditional marketing tactics to create and shape your brand are just not enough in today's world. Finding the correct mix between brand awareness and lead generation is crucial to any successful marketing strategy.

To persuade yourself even more, go online and scan through major real estate companies in the market, such as Kohinoor and Mahalaxmi, to see how well and fluidly they have combined these elements to create a superb marketing strategy.
Some Final Thoughts
Today's brands can't expect to generate leads and convert customers for the foreseeable future unless they're constantly increasing brand recognition and creating credibility. The development of a brand and the generation of leads are both intertwined. You must utilise the proper amounts of both for optimal growth. In the process, there should never be two polar sides, but rather a flexible range to find the perfect balance between the two.


If you require professional help with your branding and lead generation strategies, don't hesitate to get in touch with our experts. Drop a message to get a free consultation from Seagull.
---
---