How Does CHAT GPT Enable Brands To Create Brand Collateral Effectively?
Posted: March 30, 2023 | Author: Seagull Advertising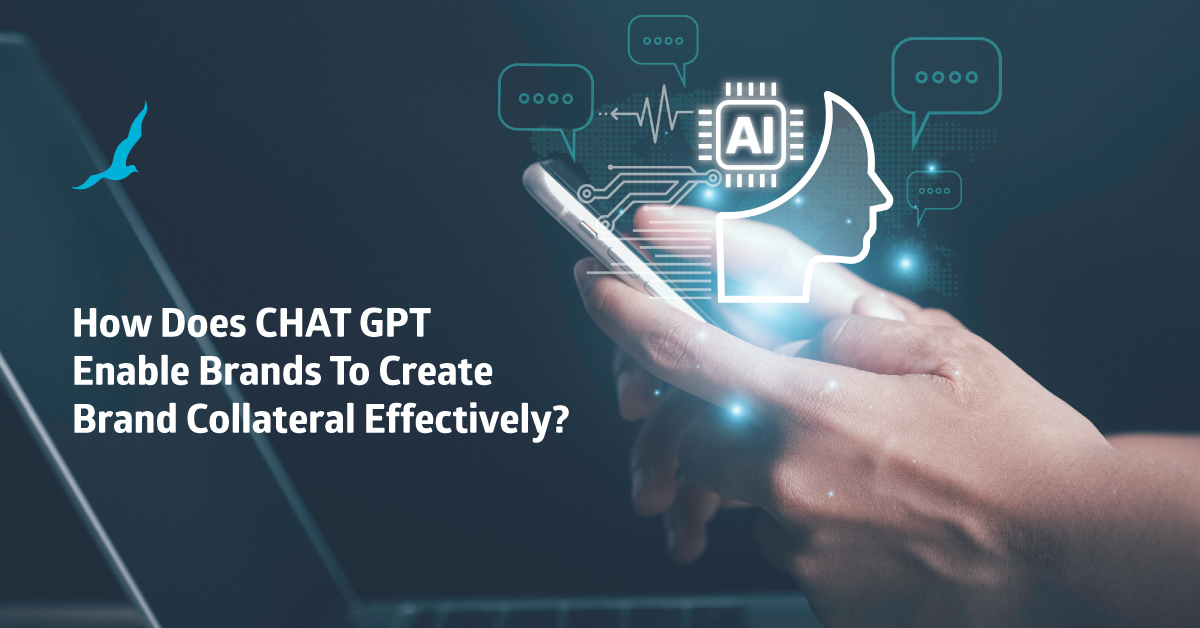 CHAT GPT is an advanced artificial intelligence platform that can revolutionise the way brands create collaterals. With its ability to generate highly engaging, accurate, and personalised content, CHAT GPT can help businesses to create brand collaterals that effectively represent their brand identity and messaging.
Brand collaterals are the physical and digital assets representing a brand, such as logos, websites, social media posts, brochures, and advertisements. These collaterals are the face of the brand and play a crucial role in communicating the brand's message to its consumers. With CHAT GPT, businesses can create highly personalised and engaging collaterals that resonate with their audience and help build a strong brand identity.
In this blog, we will discuss how CHAT GPT can help create brand collateral and its benefits to branding, marketing, and advertising.
1. Brand Messaging:
CHAT GPT assists businesses in creating effective brand messaging. It can analyse the brand's history, values, and offerings and provide suggestions for messaging that communicates the unique selling proposition of brands. CHAT GPT can generate content for different advertising mediums like print, OOH, digital, radio, TVC, etc. By inputting an apt brief, CHAT GPT can create content for diverse marketing mediums that reflects the brand's personality and appeal to its target audience. With CHAT GPT, businesses can ensure their brand messaging is consistent and compelling across all marketing and advertising channels.
2. Content Creation:
In creating various types of content for their brand collaterals, like blogs, social media posts, and email newsletters, CHAT GPT helps businesses. It connects with the brand's target audience, industry trends, and competitors to generate content ideas aligning with the brand's identity and goals. CHAT GPT can also provide suggestions for headlines, introductions, and call-to-actions that engage the viewer and drive conversions.
3. Design Elements:
To enable businesses to design appealing visuals for their brand collaterals like logos, colour schemes, and fonts, CHAT GPT works wonders. It examines the brand's identity, industry trends, and target customers to provide suggestions for design elements that fit with the brand's personality.
Benefits to Branding:
- Consistency:
By leveraging CHAT GPT, businesses can ensure the consistency of their brand collateral in messaging and design across all marketing and advertising channels. Consistency is essential for establishing brand recognition, building trust with the target audience, and reinforcing the brand's values and mission.
- Differentiation:
To create unique brand collaterals, CHAT GPT is an efficient tool for businesses. By analysing what is trending in the industry and competitors' strategies, it can provide suggestions for unique messaging and design elements that set the brand apart from its competitors.
Benefits to Marketing:
Efficiency:
With this new-age tool, businesses can save time and optimise their resources for creating brand collateral. CHAT GPT can generate content and design ideas quickly and accurately, enabling businesses to focus on implementing marketing strategies and reaching their target audience.
Relevance:
CHAT GPT can thoroughly study the target audience's demographics, interests, and behaviours to generate content ideas that are relevant and engaging to the target audience. By optimising CHAT GPT, businesses can create content that connects with the target audience and increases conversions.
Benefits to Advertising:
Personalised Advertising
CHAT GPT is capable of providing personalised advertising experiences to customers. With its advanced natural language processing capabilities, CHAT GPT can study customer data and create personalised ads tailor-made for each customer's interests and preferences.
Real-Time Customer Interaction
Another key benefit of CHAT GPT is its ability to provide real-time customer interaction. With CHAT GPT, businesses can create chatbots that can interact with customers in real time, answering their questions and providing them with personalised recommendations.
Increased Efficiency
With its advanced machine learning algorithms, CHAT GPT helps businesses to increase their advertising efficiency. It runs through vast amounts of customer data and identifies patterns and trends that can be used to improve advertising campaigns.
Cost-Effective Advertising
CHAT GPT enables businesses to reduce their advertising costs. Businesses can achieve better results by creating personalised ads and providing real-time customer interaction. It can help them save money and reinvest it into other areas of the business.
Being a creative brand strategy agency, Seagull is embracing the revolution that CHAT GPT has brought to accelerate efficiency and growth. By blending its creative brand design solutions with this new-age technology, Seagull is scaling even greater heights of success.
---
---