Top 4 Marketing Trends that help us Look into 2025
Posted: January 12, 2023 | Author: Seagull Advertising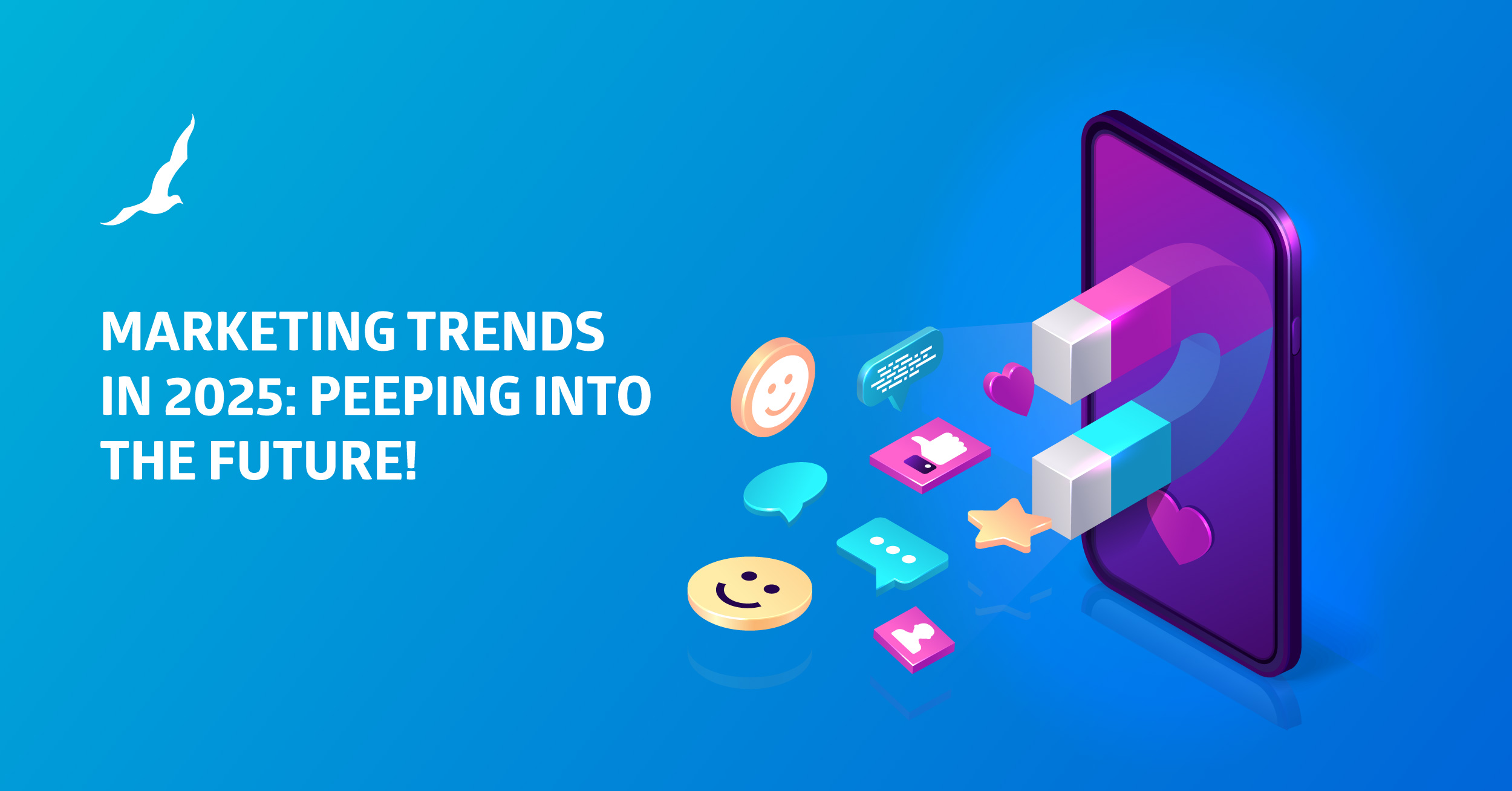 "The best way to predict the future is to create it"
With today's ever-changing marketing scenario, it is quite important to stay up to date with the different types of marketing trends in order to make sure you're not falling behind your competitors.
Seagull Advertising in Pune serves you with the best branding and marketing services to help you and your business seamlessly navigate through upcoming marketing trends. Our individualized branding, marketing, and advertising strategies support and empower businesses to develop their brands strategically.
We at Seagull Advertising always make it a point to experiment and keep up with ongoing digital marketing trends. Through regular insightful seminars held by industry experts, our team makes sure to provide you with the most effective branding and marketing services to help your business soar high.
That being said, let's get into some of the top 4 upcoming marketing trends that are predicted to dominate the future.
Marketing Trend 1: Positioning your Products
It is always important to single out the distinctive benefits your product or business possesses and distinguish yourself from the rest of your market. Having a well-thought-out strategy to position your business within the intended market can make sure you stand out and improve brand recall. Seagull Advertising in Pune creates an in-depth research for your brand and strategically positions it in the industry for you to get maximum exposure.
For this, brands need to get to know their customers in order to develop products that respond to their needs. A well-planned strategy can identify the market segment with higher potential, while simultaneously establishing a certain identity within the minds of its customers. The most effective marketing strategies are then used to convey this distinction, which will later pique their customer's interest.
Seagull Advertising Agency is one of the best branding and marketing companies in Pune for an effective placement of your brand in the industry. By providing an in-depth analysis of your strengths and uniqueness, we can help ensure maximum reach within your intended market.
Marketing Trend 2: AI-Generated Marketing Services
Artificial intelligence (AI) marketing is the practice of using AI tools and techniques, such as data models, algorithms, and machine learning, to provide insights into consumer behavior. This way of marketing is an emerging marketing trend in the industry. Marketers can then utilize this data to optimize expenditure, customize content, and improve the customer experience.
Many companies are using this data generated by AI tools to help drive deeper personalized interactions between the brand and its audience. It is predicted that AI-generated tools will also be the driving force to personalize offline person-to-person experiences taking your brand's marketing results to the next level. Several studies by reputable marketing analytics further contest that businesses using personalized AI report higher rates of ROI, making it an immensely profitable market.
Marketing Trend 3: SEO Integrated Marketing
If done properly, Search engine optimization ensures maximum visibility for your content on Google, which in turn provides higher long-term and short-term traffic returns. While its integration into marketing strategies by creative marketing companies isn't a new concept. The constant change in different types of marketing trends and updates makes keeping up with current trends a constant challenge.
With the advancement of Google's algorithms, SEO has expanded to encompass much more than just writing basic posts in response to simple search inquiries. In order to help brand communication grow, from search insight reports to multimedia optimization, brands are now (more than ever) investing money in SEO. SEO has grown to the next level and you can now know all about it from our blog.
Seagull Advertising being one of the best marketing agencies in Pune, can provide you with the most up-to-date SEO services keeping in mind the projected trends of upcoming years. Having a dedicated SEO strategy will help your brand have a unique identity on digital platforms.
Marketing Trend 4: User-Generated Content
User Generated Content- as the name suggests refers to the content and engagement created by your very own user base (such as customers or employees). These could be pictures, text, reviews, or videos- that we find on online forums and social networking sites. The importance of user-generated content is very crucial in today's current marketing scenario. Due to its genuine and human nature, most users respond positively to brands that are backed up by other users. Rather than other standard modes of marketing, UGC comes across as more authentic thereby making it seem much more trustworthy.
Upcoming marketing trends shall rely highly on user-generated content and Seagull Advertising, being one of the best branding and marketing agencies in Pune helps you and your brand to have a vibrant presence on digital platforms. All these different types of marketing strategies will help you gain a good response from your audience and build your brand's digital presence. Learn more about digital marketing trends from our blog.
Get in touch with Seagull Advertising in Pune and help your brand grow better!
---
---