The Science Of Landing Pages And The Analogy of Lead Conversion
Posted: March 4, 2021 | Author: Isha Rathor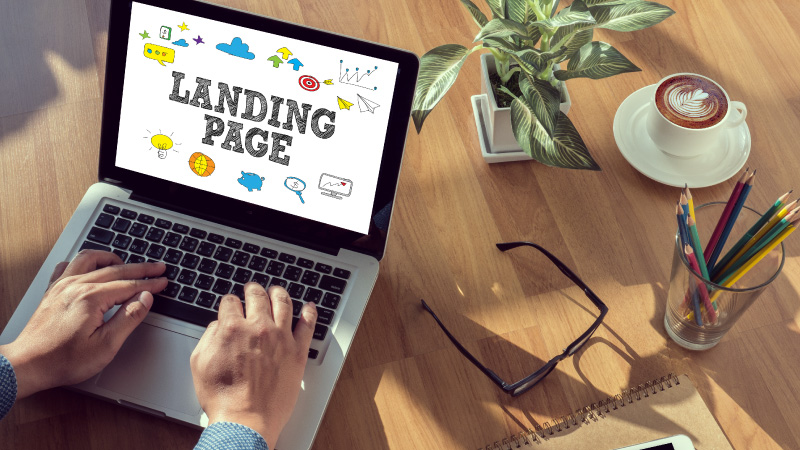 "Conversion rate optimization really isn't about optimizing web pages – it's about optimizing decisions – and the page itself is a means to an end but not an end itself." – Michael Lykke Aagaard

What is the purpose of a landing page? Why do we need a landing page? Questions like these are common among most marketers.
Landing pages are not rocket science, but they sure are complex. However, building one can be easy, but it gets tricky when you analyze your conversion charts. There is a thin line between a brilliant landing page and a landing that converts.
Landing pages are a different category, they fall in the species of paid advertising more than organic ones, closer to the lead funnel family than brand awareness family. That is why landing pages cannot be designed and structured as websites.

But if not a website, what is the ideal landing page for you? And how to identify it?

A landing page is more science than art. Let's roll up our sleeves and dissect the secrets behind the benefits of landing pages and how to design a perfect one.
Build the Chemistry:


Your customer builds a relationship with your brand when it converts. Right from the first look, till the time of purchase, your brand and your prospect join hands to walk through a journey.
This time spent with your brand should be an enjoyable and meaningful experience for your lead.
For that to happen, the way you interact with your customers decides the kind of chemistry, you are going to build.

Some flatter points you can use are:
Talk, don't lecture: Nobody likes a 'Blah', neither a chatterbox. Your customer sure has come to your blog page or your website to check you out. But the way you invite them in the brand romance matters the most. Use a conversational tone on every touchpoint of your brand. One of the many important aspects of SEO is active voice sentences. Make sure every time you speak, it is not an instruction booklet. Let the words flow like you are talking in person, after all the first impression is important.
Make fun, not boredom: Do you know about the 3 Second Rule? Your leads should feel like they are interacting with you, a human voice that is interesting enough to block their scroll time. Use visuals and text creatively to tell your story and ask theirs.
Don't dig around the bush: Be sure every word that is displayed in your brand's conversation is direct. Nobody likes extra coverings if the core is kept hidden for a long time. Brand honesty lives a long life, blabber always fades away sooner or later.
Learn the Biological Anatomy:
It's time for you to get the structure right. Landing pages have complex anatomies, however, being an anatomy expert requires practice, experience, and most of all getting each individual section correct.
Take a quick look at what are the heart, body, and brain of your landing page.
CTA:

Your CTA is the heart of your landing page. It decides the purpose of existence and pulsates traffic in to keep your campaign alive. Always know what you want your audience to do, and then pen that down in your CTA.



Headline and Sub-Headline:

What will attract your audience the most is the opening lines coming out of your mind. Your headline should be able to shout the message clear and loud, yet making a connection between your purpose and your prospects. Choose the right headline between the appropriate word limit.



Visual:

Give some air to breathe. Give some space to think and reconsider your audience. Make sure whatever you showcase is pleasing to the eyes of your audience. We know, there is much more than meets the eye. But in the landing page business, all levels of depth are flaunted through colors and elements. At least, that's what experts do.



Features and Benefits:

Everyone has their own perks. But why enjoy the perks of being a wallflower when you can easily become the center of attraction. Don't be shy about your best quality. Keep it in BOLD, gently, if possible. Being polite sure is an impressive trait, but not worth losing a prospect. Mention your key features like they are your secret weapons for making your audience fall for you.



Social Proof:

It's always good to keep your feet on the ground. Whatever you say, has been tried, tested, and liked before, is a piece of affirmative news for your leads. Provide customer testimonials, clientele, and accreditations wherever possible. Provide a sign to trust for your audience, through your landing pages.



Conclusive statement:

Highlight your intention clearly at the end of the conversation. Give them resources to know more about you. Exchange numbers. By the end of this date, let your customer base decide whether they had a good time and if they want to meet again. Provide a form as a sign for them wanting to hear from you again. If they fill in, you have aced it. (Only if it's the target audience that fills it, or you are giving wrong signals to the wrong people.)
Ace the Physics:
It's not just the way you talk or present yourself, small fundamental details also count. Master these simple tips to impress your audience.
Page Speed:

The loading speed of your page is important. If you are late, you have lost half the future leads. The optimum load time for the desktop is 1.28 secs and for mobile is 2.5 secs. (Reference: machmetrics.com)



Keyword Placement:

Make sure you have done your homework well. Choose the right keywords to make the right impression, or in this case, attract the right audience. SEO is an important aspect, and if you are missing out on it, you are dropping down on the list.



Hyperlinking:

If your landing page is based on a current campaign, make sure you mention the link wherever possible, be it social media platforms or ad campaigns. Keep your presence on every platform so you do not miss out on anybody swiping right on connecting with your brand.
We are sure you got some light on, what are landing pages and why are they important. The science of landing page maths, chemistry, biology, physics, and some magic of your brand combined. Make sure you get it correct and you'll witness leads flow through the funnel, faster than ever.
Looking for help to craft your landing page? Find the best digital marketing agency in Baner.
---
---