How To Leverage Reddit And Quora To Reach Out To Your Audience?
Posted: December 21, 2020 | Author: Seagull Advertising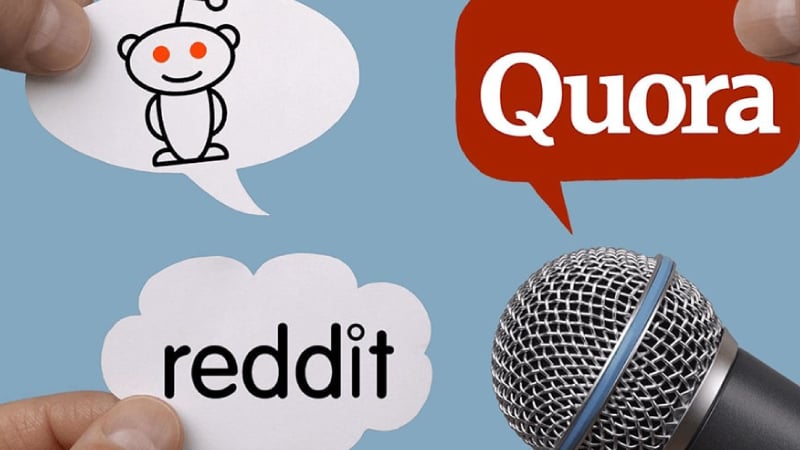 Websites with user-generated content like Quora and Reddit can be a golden goose for producing quality traffic to your website, boosting brand authority, and reaching new prospects for your business.

But you better know what is and is not allowed on these social channels in terms of content distribution and engagement. These online communities (Reddit and Quora) have their own written and unwritten rules of etiquette and marketers attempting to trick the system are quickly red-flagged and ostracised.

Reddit a.k.a. "the front page of the internet," attracts almost six crores, unique monthly visitors, from the United States alone to its eclectic mix of unique content. Similarly, Quora has excelled in search engine rankings for a wide variety of topics because the website does an amazing job of satisfying user intent through answering genuine questions. It's a user-generated and driven platform which is highly regarded for its content.

If you're looking for the next step via Reddit & Quora to boost your product or service online, this is the blog for you. Here we are answering some of the popular questions- How to use Reddit effectively? How to use Reddit for traffic? How to get traffic from Quora? How to market on quora? And the basics of both platforms for better understanding. So read on to know all.

Banner Image Source: Writeabout Website
How Does Reddit Work?
Reddit primarily focuses on social news aggregation by its users. These users have formed communities, and they submit content on various topics and subjects. Then other users and communities upvote or downvote that content- The most popular feed rises to the top.

As of today, Reddit is carved into thousands of individual communities organised around topics or interests. For example, r/politics focuses on political news, and r/dogberg focuses only on dog footages haphazardly knocking over people or things.

Because of this 'up and down' voting system, opening the Reddit homepage is like getting a snapshot of the Internet's most popular content. Now imagine, sponsoring your content or showing your product or service on this page. That's the power of Reddit.
How To Engage And Market On Reddit?

Redditors are quite protective of the communities they've built and loathe individuals or brands that attempt to hijack a subreddit for personal gain. But marketers can get into this system genuinely in two ways:

Produce and publish genuine good content
Sponsor your content via the paid medium
What you need to remember is that the people in Reddit communities have come on the website or app for specific reasons—hobbies, social causes, or just plain fun—and you have to genuinely respect that, so shape your content in a way which is useful to the users and has a great shareability quotient.

Even before you start publishing, analyse what is working in your domain. Be a genuine participant and start engaging with comment threads and inside jokes.

Most Reddit communities ask that you contribute 80% of the time and only self-promote 20% of the time (the ratio can go up or down, depending on your content and your target community)

Post original content and engage genuinely. You are unlikely to find success if you just repurpose your daily Facebook post and dump it into a reddit. Only specific and curated content works as the audience is quite smart on Reddit and keeps an eye on the contribution you make or do not make on the platform.

Fake accounts, undisclosed paid sponsors, employee upvoting requirements - Redditors have seen it all, and it makes them very angry when marketers try to pull one over on them. So keep yourself away from these things or get ready to find yourself at loses on the platform.
What Is Quora And Why Should Marketers Consider It?
Quora is driven by the mission to share and grow the world's knowledge online. It uses advanced machine learning and artificial intelligence to connect people who know answers to people who have unanswered questions. Knowledge exists in a lot of places - books, magazines, videos, whitepapers, podcasts, and all over the places, but bringing that knowledge to one internet user in a form which makes sense, is where Quora comes into play.

The platform works to get the right question and the right answer to the right person at the right time. You can even ask a question about your neighbourhood, and someone from your community might be able to satiate your curiosity.

Once you create an account and start using the platform, Quora learns more about your expertise and experience and directly routes questions to you that you might be able to answer. Later, it surfaces the conversation to other domain experts who can upvote and support your answer to generate a highly personalised and refined. And the more you use the site, the better it becomes.

For marketers, Quora provides the opportunity to reach and influence prospects at the moment they are intentionally researching and evaluating products. Hence striking at the right time and influencing at the time of their purchase.
How To Leverage Quora? & How To Get Traffic From Quora?
Quora is available as a website and a mobile app, which can be accessed by anyone on the Internet. The queries on Quora additionally index well with Bing and Google, so a lot of people discover questions and answers through organic search.

Questions are typically answered within 24 hours, especially if you request answers from specific communities or use the "Ask to Answer" option.

Here marketers and advertisers can leverage the platform by answering the questions genuinely and creating a fan base. Subtly inserting your brand, product, or service is also one of the ways to introduce yourself to the questioner.


At The Bottom
Quora and Reddit offer content on just about every category you could imagine. They then allow you to follow specific subjects so that you'll be able to see thread/conversations about interests. Nothing beats these platforms in terms of genuine content and responsiveness; not even Facebook, Instagram and Twitter.

Whatever industry you market or are interested in learning more about, Quora & Reddit can get you in front of that audience easily.

In case you face any problems then do reach out to one of the best marketing companies in Pune - Seagull Advertising. Our experts will help you out with all your queries regarding digital marketing.
---
---