Best Social Media Monitoring Tools In 2022
Posted: January 21, 2021 | Author: Seagull Advertising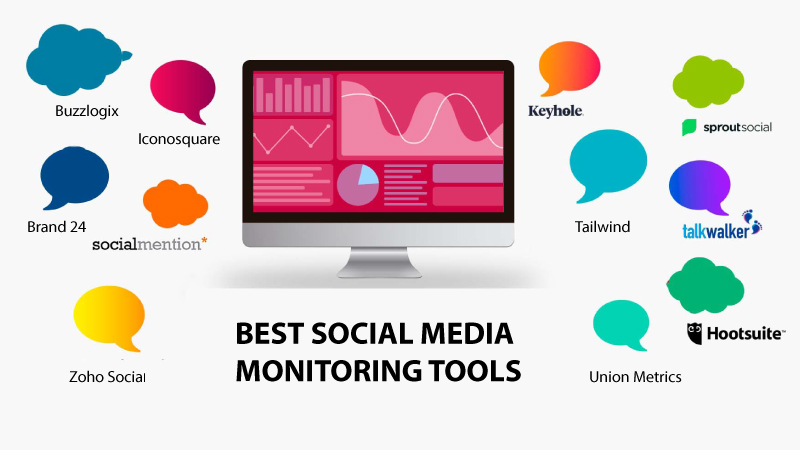 Social media channels generate a huge amount of data every day in terms of videos, images, GIFs etc. And to post them millions of post copy, header and captions are written. To pay attention to what is being said on social media (Published content) is called social media monitoring. It can about your brand, your campaign, your competitors, your product, trending topics, etc.

It's important to understand that social media monitoring is your brand's first line of defence against a potential crisis. Also, proper social media monitoring can provide a strong understanding of your audience's needs, improve your customer service, realise customer expectations, keep tabs on your competitors and find opportunities for promotion.

In a world where billions of texts, pictures and videos are shared every day, it is impossible for any person or a group to keep a tab on everything manually And this is where social media monitoring tools, websites and apps come into play.

But which social media monitoring tool is the best for your product or services? It's not tough to pick the right one for your brand if you know which tool does what. To match your brand compatibility with the tools' enticing premises, we have detailed the tools, websites and apps in this.

Here's a guide showing you the best social media monitoring tools, best social media monitoring apps and best social media monitoring websites.
Note: The list shown below is considered by comparing the following capabilities.
Keyword-based concept tracking
Competitor tracking & comparison
Domain monitoring & alerting
Backlink alerts
Author tracking and alerting
Sentiment analysis (e.g. natural language analysis)
Multi-language processing
Image detection & analysis
Boolean operators for search and query
Search filter
Segmentation (demographics, geolocation, channel, sentiment, etc)
Real-time alerts
Customisable alert triggers
Alert delivery via email, RSS, etc
Customisable reporting, report archiving, historicals
Data visualisation & dashboard, social command centre
Here Is The List Of Best Social Media Monitoring Tools:
1. Hootsuite
Image Source: Hootsuite Official Website
This is the most popular and well known social media monitoring tool worldwide. Hootsuite let you monitor discussions and mentions relevant to your business, your industry, your products and your services at one place. You can keep a tab on what people are saying based on keywords, hashtags, locations, and even specific users.
2. Sprout Social
Image Source: Sprout Social Official Website
Similar to Hootsuite, Sprout Social can monitor the complete social media feed of all the popular social channels like Facebook, Instagram, Twitter, etc. Here you can monitor, engage and analyse all the data in one dashboard.


3. Talkwalker
Image Source: Talkwalker Official Website
Talkwalker, the social media monitoring tool, uses more than 50 filters to monitor conversations/mentions/tags across 150 million data sources. With Talkwalker, you can easily analyse engagement, reach, comment, and set brand sentiment.


4. Zoho Social
Image Source: Zoho Social Official Website
This is one and only Indian social media monitoring tool in this list. It is known for its efficient and affordable services. With Zoho Social, you can publish and schedule posts, monitor social activities, analyse your social media performance easily. It provides cloud support also to store your essential data online.


5. Brand 24
Image Source: Brand 24 Official Website
Brand24 is a very powerful yet very affordable social media monitoring tool for those who want to dive deep into data. Besides the usual feed of major social media platforms, Brand24 also monitors blog content, forums, and other sites for mentions and conversations.
6. Mention
Image Source: Mention Official Website
Mention is one of the biggest free social media search engines for user-generated content across the Internet. This platform lets you find and measure what people are saying about your brand, via keywords tags on all popular channels like Tumblr, YouTube, Twitter, etc.


7. Keyhole
Image Source: Keyhole Official Website
Rather than finding individual mentions of your brand, Keyhole provides trends, insights, and analysis of your preferred hashtags, keywords, or accounts at one place and with one filter. It is one of the easiest tools in the list and also quite a user friendly.


8. Buzzlogix
Image Source: Crunchbase Official Website
Buzzlogix helps in both social monitoring and social engagement via its functionality. On this platform, you can track content with your preferred keywords and get the statistics in easy-to-understand tables and graphs. For social engagement, you can monitor multiple social media profiles on one dashboard and respond to social mentions and messages via the same.
9. Iconosquare
Image Source: Iconosquare Official Website
Iconosquare is quite famous for its Instagram analytics and management. Besides its strong analytics and management features, Iconosquare offers custom feeds, which you can use to monitor specific Instagram content.
10. Tailwind
Image Source: Tailwind Official Website
Tailwind is explicitly built for Pinterest and Instagram. It specialises in visual content filtration. Apart from its scheduling and analytics features, Tailwind also enables you to monitor your content and your competitors.


11. Union Metrics
Image Source: Union Metrics Official Website
Union Metrics provides social intelligence that can help you improve your social media strategy. With Union Metrics, you can track and analyse social media posts, monitor your competitors and trends, conduct research, and more.
The Final Verdict
With so many social media platforms available, it can be a nearly impossible task for marketers to measure their brand performance, without the help of third-party tools that simplify social media management & listening.

Thankfully, these (mentioned above) social media monitoring tools automate the process and provide analytics about your audience, brand and campaign performance in a simple and easy to understand way.

These tools also allow you to keep track of trending topics, ongoing conversations, and respond to negative sentiment promptly – before things get out of hand.

So now you know which are the best social media monitoring tools out there. All you need to do is pick the one that suits your marketing needs and budget.

Knowing about the best tools for social media monitoring is one thing, but managing campaigns, monitoring, strategizing, analyzing, and optimizing content require quite a lot of effort and time. We at Seagull Advertising work 24*7 around digital marketing solutions and are known as the best brand design agency in Pune. So If you face any problems then do reach out to our experts at Seagull Advertising. We will help you out with all your queries regarding digital marketing.


---
---