A Day in a Branding Agency with Seagull Advertising
Posted: December 29, 2022 | Author: Seagull Advertising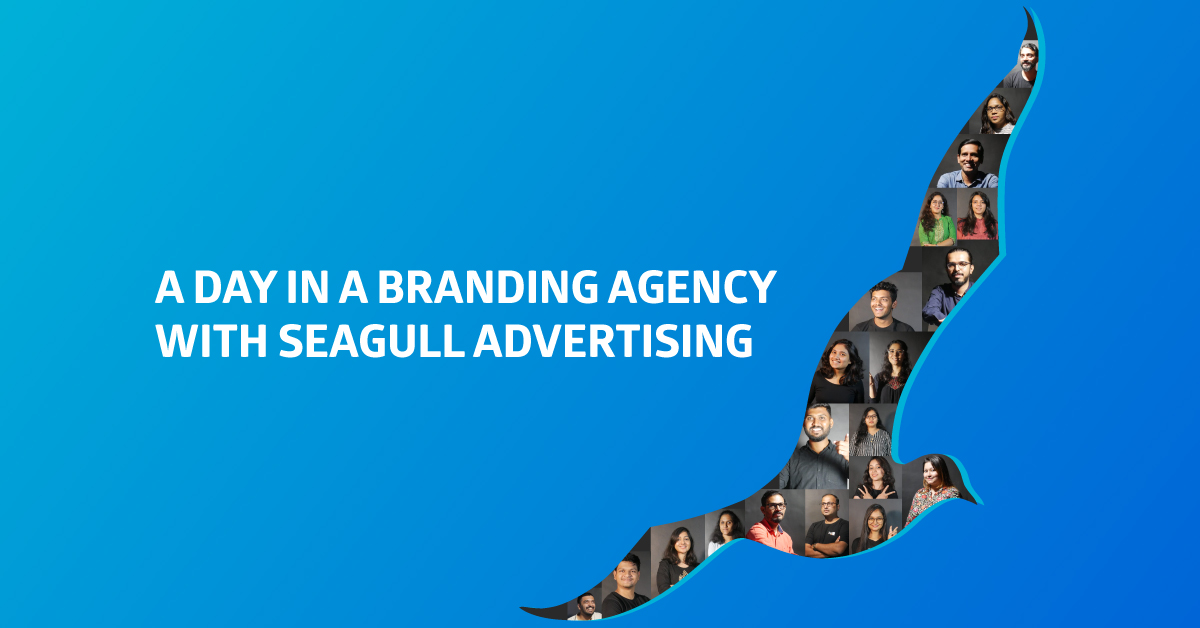 Many a small thing has been large by the right kind of advertising ~ Mark Twain
Choosing the right branding and advertising services can often be a daunting task! Be it a newly established business, start-up, or even a multi-national company, there is a constant need to develop your service or product. Creative marketing and branding lay the foundation for what entices your target audience to gravitate toward you.
For this, choosing the right branding agency in India can ensure that your business grows better, with design and communication that engages your target audience at a deeper level.
Seagull advertising is one of the best advertising agencies in India to solve all your branding and marketing needs. We are here to help your business 'Grow Better' by developing your clientele through unrivaled creative design operations. Our main goal is to bring out the best in your brands and give them strategic advertising services to ensure growth.
And how exactly do we pull it all off?
Let's take a peek into the daily life of Seagulites and the busy bees that work into making all your marketing wishes come true.
Brand Strategist
The marketing journey at Seagull advertising agency begins by introducing the new client with a 4-step major milestone strategy process called the 'Wing4Profit'. This contains detailed procedures to help decode vital consumer insights to provide you with the type of best branding and advertising services that help connect to your target audience.
This is made keeping several important branding checklists in mind such as:
- Consumer insights
- Market Analysis
- Secondary research
- Brand Challenges
Among many others;
The strategy is then handed over to the client and designated Account Manager; who then proceeds to execute it.
Account Manager
The account manager decodes the said strategy to intricately plan out the execution of deliverables across various platforms such as:
- Digital Marketing
- Social media
- Paid Ads
- Traditional ads
- Events
- Hoardings etc
They proceed to send out aims and objectives to the various respective departments such as the copy team, digital team, and creative team.
Creative Team
Once the brief reaches here, the creative team begins the process of conceptualizing the client's vision to life. Seagull Advertising happens to be one of the top advertising companies in Pune with the most innovative advertising services to help you reach your target goals.
The copywriting team deciphers the brief to understand the emotional objective of the brand. Who then proceed to come up with concise and compelling copy that tells an interesting story.
They then proceed to send the copy to the art and video visualizers.
The visualizers and artists further provide shape to the creative concoction of the copy team and bring it to life visually. They along with the art director and creative director work as a team to conceptualize amazing visuals for various projects such as:
- Campaigns
- Social Media posts
- Concept design etc
Video Visualisers work in conjunction with artists and visualizers. They create motion graphics for the campaigns and pitches and maintain consistent brand identity.
The UI/UX department ensures the most user-friendly interfaces for the client and the end customers based on the briefed brand strategy. After an arduous process of prototyping and developing feedback the website and app are ready to go.
Digital Marketing
Here the entire Digital Marketing squad facilitates conversations with your Target audience and helps them grow digitally.
SEO
The SEO team extensively researches and analyses the goals and targets of the brief to provide:
- High-ranking keywords
- On-page and off-page activity
They make sure through their efforts that the website's ranking always stays optimum in organic search results.
Content Writers
They are responsible for intricately wording informative and compelling blogs and other pieces, to form a natural dialogue with the customer. The work in conjunction with the SEO and Account Managers to make sure the written content always ranks high and with the appropriate brand voice.
SEM
SEM marketers make sure that your paid advertisements for your products and services always rank high in search engine result pages (SERPs). They make sure to create the most optimum strategy for organic as well as paid ads.
Web Developers
Web Developers coordinate with UI/UX department to design the entire layout and interface for websites and apps. They also facilitate the functionality and flow of all the back-end processes; right from server integration to getting the domain live.
Social Media Team
Last but not least: the social media team works diligently to ensure the smooth flow of all our social media accounts.
Plans are curated and calendars are scheduled after a thorough briefing with the account manager. Once approval is gained, plans are forwarded to the creative teams, and Voila! we're ready to post.
Throughout this entire process from Clients to designers to writers and so forth, the only constant is the passion and enthusiasm every member puts into a project. We at Seagull strive to nurture your organization's growth as if it were our own baby. This is why we are considered one of the top branding agency in India not to mention our fun and lively work culture.
So there you go. You have successfully taken a sneak peek into Seagull advertising agency and now know why we are one of the top advertising companies in India. Hope to help your brand grow soon!
---
---