The Role of AI in Advertising
Posted: May 8, 2023 | Author: Seagull Advertising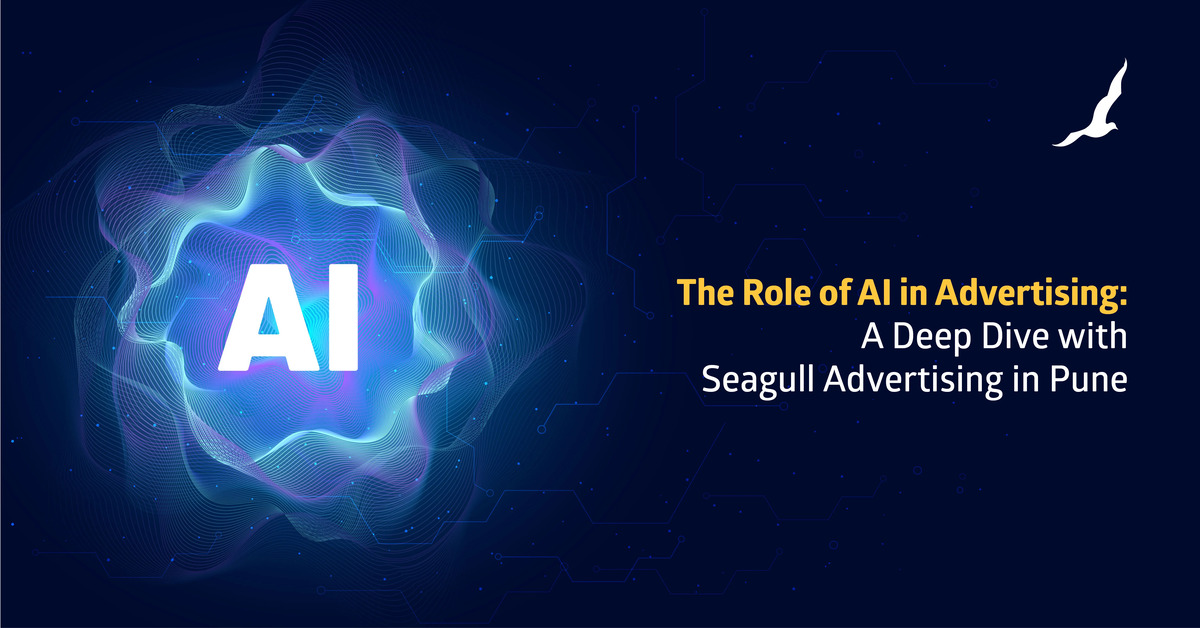 It won't be an exaggeration to say that the advertising world today has got immensely competitive as compared to what it was two to three decades ago. Needless to say, social media has played a significant role in this humongous change, where creative advertising agencies and brands are competing fiercely to grab the attention of their target audience, and looking for smarter ways to reach them. While a lot of brands and creative marketing companies have found it challenging to put their communication across in a precise manner and to the right set of audiences, a few creative advertising agencies have excelled at it with the help of Artificial Intelligence (AI). Today, a good creative ad agency understands the need to apply inputs gathered from machine learning techniques. In this blog, we will discuss the role of AI in advertising, its pros and cons, and how creative marketing companies can leverage AI to successfully advertise their products.
Creative Advertising Agencies can use AI to create Targeted Ads


A good creative ad agency understands the importance of targeted ads. Brands need to understand and demonstrate that they understand the wants and needs of its customers. Targeted ads achieve this objective by sending out different communication to different customers based on their profiles and needs/ interests. So what role can a technology like AI play in this? It can assist creative marketing companies in creating effective communication backed by machine learning algorithms that analyse data and target customers accurately. This results in sending out only the relevant set of ads to a particular consumer.
A Creative Ad Agency can use AI to personalise customer experiences


In addition to creating targeting ads, AI can also help creative advertising agencies in creating personalised customer experiences, so that the customer feels valued and stays loyal to the brand in the long run.
Consumer Behaviour Research - A Task AI can do with Ease for Creative Advertising Agencies


When it comes to advertising, understanding consumer behaviour should be on the top of the list of creative marketing companies. AI can assist creative advertising agencies in studying and predicting consumer preferences. Creative advertising agencies can then determine which advertisement will be the most effective for a particular customer and draft the perfect advertising strategy based on the findings.
Creative Advertising Agencies

can leverage the power of AI to create relevant ad copies




Creative marketing companies can take the help of AI-powered copy generator platforms such as ChatGPT, Jasper, Copy Shark, and Any Word. These platforms use their pre-trained database to intake inputs and prompts and generate the appropriate response in a natural, human-like text.
Here are the benefits and challenges creative advertising agencies need to consider before deploying AI in their processes
Creative Marketing Companies

can benefit from AI's ability to -




Target ads effectively

Help in optimising campaigns

Save time and money

Reduce the risk of losses

Improve customer experience

Reach more customers
To give an example of how creative marketing companies use AI to reach more customers, Coca-Cola - the largest beverage company analysed 120,000 pieces of content on social media to understand the demographics and customer behaviours.
Following are the challenges a Creative Ad agency

might face in deploying AI




The quality of data - AI works on algorithms, which are highly dependent on data. The performance of AI algorithms is often impacted by the quality and quantity of data that is fed to it by creative advertising agencies. If the data is inaccurate, incomplete or partial, it may affect the outcome negatively.
Data privacy: AI uses customer data. One thing that creative marketing companies need to consider is that the collection and use of this customer data by AI-powered systems might in a few cases raise privacy concerns and may require compliance with the data protection regulations such as GDPR or any other regulations as imposed by the government.
Lack of trust: Since AI is still in its nascent stages in India, it is yet to gain the trust of creative advertising agencies and brands.
The human touch- Inarguably, the most important challenge of using AI is that it could never replicate human intuition, emotional intelligence, and creativity.

While AI is definitely a boon for a few aspects of advertising, creative advertising agencies need to strike the right balance between AI and human expertise, for a brand to soar high on success. If you are looking for a creative ad agency in Pune that has mastered this art, Seagull Advertising is where you should be. Seagull Advertising is considered to be one of the best creative advertising agencies and has helped 100+ businesses develop into a brand. To know more about this creative ad agency.
---
---