How Did Seagull Advertising Help Brands Through the Branding for Profit Seminar
Posted: April 24, 2023 | Author: Seagull Advertising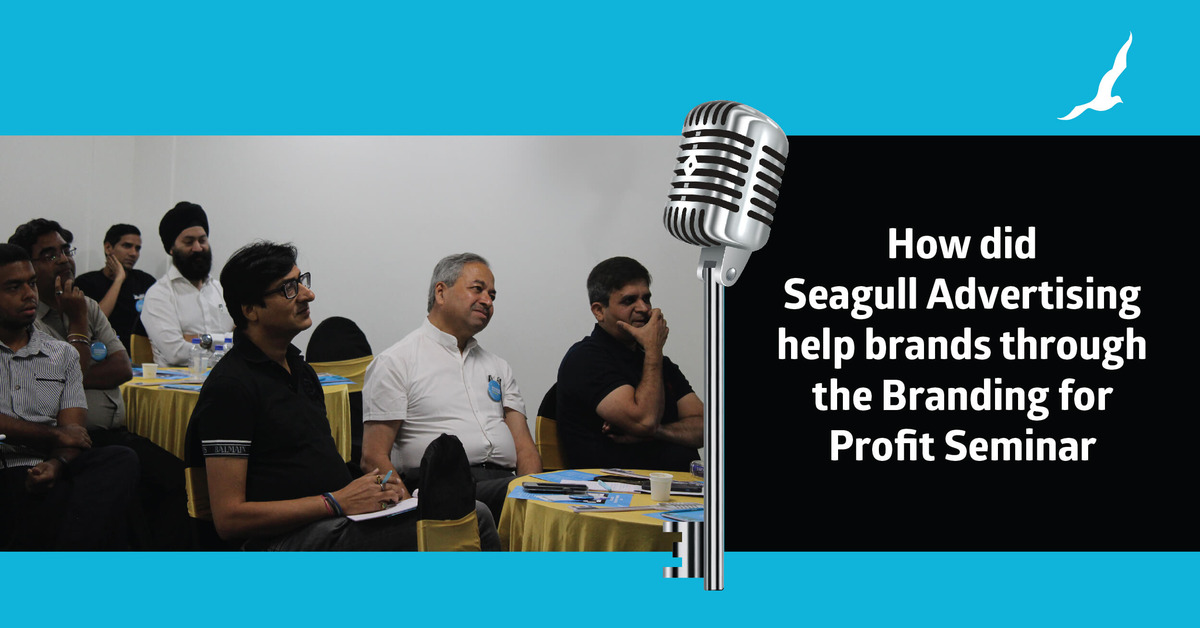 Branding is an important aspect of any business, and it is essential to build a strong brand to achieve long-term success. For start-up entrepreneurs or seasoned businesses looking to revitalise their brand, a masterclass on branding can work wonders. Not only does it open the doors to new-age possibilities but also acts as the perfect networking platform. Seagull Advertising, one of the top branding companies in India recently conducted their 'Branding for Profit' seminar - an industry-connect initiative to bring entrepreneurs, brand managers, and brand communicators closer. The event was hosted at the prestigious MCCIA in Pune.
'Branding for Profit' – A Learning for All the Top Branding Companies in India


At the 'Branding for Profit' seminar, Seagull's CMD and industry-veteran, Sameer Desai took the participants on a journey of insights and innovation in branding. A key aspect that was at the core of the entire seminar was how to convert a business idea into a shareable brand. As one of the top branding companies in India, Seagull harnesses the power of sharp insights to identify a brand's target audience. This helps brands to build market preference, earn a legion of brand champions, and ultimately drive growth.
The 'Branding for Profit' seminar was designed to help ambitious entrepreneurs and marketing managers understand the step-by-step approach to building a brand. The seminar covered various aspects of branding, including brand positioning, brand architecture, brand identity, brand communication, and brand experience. The seminar was designed to provide brands with the tools and techniques they need to build a strong brand that resonates with their target audience.
Interactive Discussions for Collaborative Learning


Any professional who has attended a seminar will tell you that a one-way monologue has a chance to get boring at some point. Seagull's 'Branding for Profit', hosted by one of the top branding companies in India, is unlike a regular seminar. The interactive nature of the sessions helps the participants partake in fun quizzes, small exercises, and get a micro-lesson in brand building. This, in turn, helps for collaborative learning and growth for all. In some of our earlier chapters of 'Branding for Profit', we've had participants ask extremely challenging questions, which have no right or wrong answer – because brands are built on 'emotionales', not on 'rationales'.
The Role of Identifying Key Emotions in Building Brands


Emotions play a crucial role in building brands, and brands that can tap into their customers' emotions can build stronger connections with their target audience. Seagull's 'Branding for Profit' seminar helped participants understand the techniques to identify the key emotions of their end customers. The end-goal of this is to drive customer behaviour and preferences, allowing them to tailor their branding efforts to strike an emotional connection with their target audience.
For example, a sports equipment brand may be manufacturing shoes but the key emotion they are targeting is 'awaken the athlete inside you' – instilling a sense of encouragement in the end user. A strong emotional hook can open doors to repeat purchase and long-term brand champions.
Building a Brand in a Rapidly Changing World

Although the 'Branding for Profit' seminar has been conducted successfully in the past, every session unearths new knowledge and ideas. As the world changes rapidly, brands have to evolve with time, reinvent for the next-generations and create long-term value. In its 26-year journey, Seagull Advertising, respected as one of the top branding companies in India has constantly moved ahead with the time. In fact, we always try to stay a step ahead of the curve and advise our brands the same as well. Because the only way a brand can stay relevant over multiple generations and timelines is to progress at the speed of social change; sometimes even faster.
---
---